Miso-Simmered Mackerel with Grilled Lotus Root
Cooking time:25 minutes, Calories: 338 kcal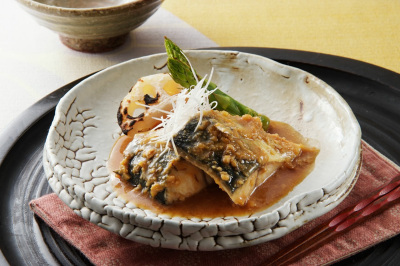 Helpful One-Point Tip:
Dissolve the miso very well with a small amount of the simmering soup before adding the miso to the soup.
Ingredients (4 Servings)
---
2 fillets Mackerel (filleted in half lengthwise)
1 piece Ginger Root
1 small piece Lotus Root
2 Green Asparagus
2~3 tablespoons Additive-free Saga Miso
Some Shredded Ginger Root
A small amount of Salt
Vinegar Water [Combine 1 teaspoon (5ml) vinegar and 2 cups (400ml) water.]

[Simmering soup]

1 cup (200ml) Water
2 tablespoons (30ml) Sake
1 tablespoon (9g) Sugar
Sweet Sake and Soy Sauce, 1 tablespoon (15ml) each.
Cooking Procedures
---
1
Cut the Mackerel:
Sprinkle a small amount of the salt over the mackerel, and place the fish onto a bamboo strainer. Leave it for a while to reduce its unwanted smell. Then, wipe out the excess moisture with a kitchen paper, and then cut into bite-size pieces.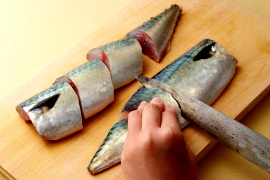 ---
2
Cut the Vegetables:
Peel the lotus root and soak it in the vinegar water to prevent it from discoloring. Then, wipe out its excess moisture and cut it into 7mm-thick half-moon slices. Cut off the firm end of the green asparaguses, and cut them into bite-size pieces. Grill both of them lightly using the fish grill stove equipped in your gas stove.
<画像があれば画像を入れる>
---
3
Bring the simmering soup to a boil and cook the mackerel:
Blend the water, sake, sugar, sweet sake and soy sauce in a pot to make the simmering soup. Turn on the burner and bring the soup to a boil. Then, place the mackerel with the skin side up. When it comes to a boil again, reduce the heat to medium. Ladle the simmering soup and pour it over the mackerel pieces repeatedly. Put a small lid directly on the top of them and continue simmering until the simmering sauce is reduced.

---
4
Dissolve the miso very well with the simmering soup:

Ladle the simmering soup and add the miso into the soup in the ladle. Dissolve the miso very well, and pour the mixture into the pot through a handy mesh strainer. When the soup becomes slightly thick, turn off the burner. Place the mackerel onto a plate and garnish the fish with the vegetables you prepared in the step 2. Then, pour the simmering soup over them, and also top the dish with shredded ginger root.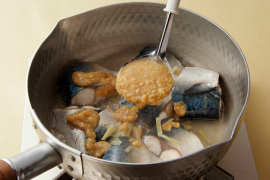 ---
The Key Item in this recipe:
Additive-Free SAGA Miso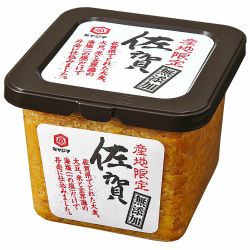 This additive-free Saga Miso is made from soybeans harvested in Saga Prefecture. It has a nice aroma and rich taste. So this miso is good for any types of dishes including soup dishes, stewed dishes and grilled dishes. The nice aroma and excellent flavor of the miso will bring out the nice taste of ingredients, making the dish more delicious.