Delicious Tonjiru (Miso Soup with Pork & Veggies)
Cooking time:40 minutes Calories: 214kcal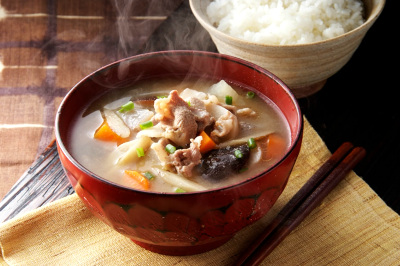 Helpful One-Point Tip:
When you cook miso soup which is plenty of ingredients, add the miso to the soup in two batches to make more fragrant and delicious miso soup.
Ingredients (4 servings):
---
200g Thinly Sliced Pork
1 piece Ginger Root
1/2 small Burdock Root
Vinegar Water [Combine 1 teaspoon (5ml) vinegar and 2 cups (400ml) water.]
1/2 small Japanese Radish (Daikon)
1/3 Carrot
1/2 sheet Konjac
3 dried Shiitake Mushrooms

(Submerge them in a bowl of water with the stem side down to reconstitute beforehand.)

3 Taros (Satoimo)
Some Green Part of a Long Green Onion
90g Additive-free Saga Miso
Some Shichimi Chili Pepper Powder
5 cups (1000ml) Dashi Stock

(Many dashi stock powders are available in grocery stores. Combine the dashi stock powder and water according to the product's cooking instructions.)
Cooking Procedures:
---
1
Cut the ingredients:
Cut the pork into bite-size pieces. Peel the burdock root and cut it into long thin pledges. Soak them into the vinegared water to prevent them from discoloring. Cut the Japanese radish and carrot into quarter moon pieces. Peel the taro and cut it into 7mm rounds. Place the rounds into a bowl. Salt-scrub them to remove the stickiness of the taro, and then rinse them well.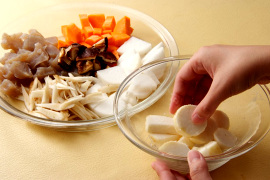 ---
2
Parboil the konjac:
Tear the konjac into small pieces, and parboil them for 2 to 3 minutes to remove unwanted flavors. Cut the reconstituted shiitake mushrooms into quarter moon pieces.
---
3
Pour the dashi stock into a pot, and add the pork and ginger slices:
Then, bring it to a boil. Remove the foam from time to time, and add the vegetables (add stiffer ones first). Then, add half of the miso, and simmer them to make them absorb the flavor of the soup.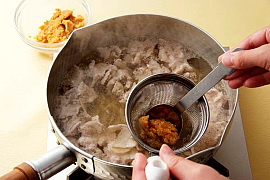 ---
4
Add the final-touch miso when the ingredients become soft:
Add the rest of the miso to adjust the flavor when the ingredients become soft. Then, ladle the miso soup into a bowl and sprinkle the chopped green onion. Also sprinkle the shichimi chili peppers as you like. Now, enjoy this delicious miso soup!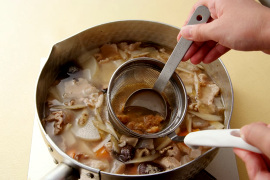 ---
The Key Item in this recipe:
Additive-Free SAGA Miso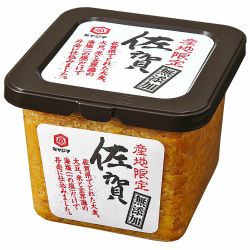 This additive-free Saga Miso is made from soybeans harvested in Saga Prefecture. It has a nice aroma and rich taste. So this miso is good for any types of dishes including soup dishes, stewed dishes and grilled dishes. The nice aroma and excellent flavor of the miso will bring out the nice taste of ingredients, making the dish more delicious.