Deli-Style Stir-Fried Pork & King Oyster Mushrooms, Miso-Flavored
Cooking time:30 minutes  Calories: 194kcal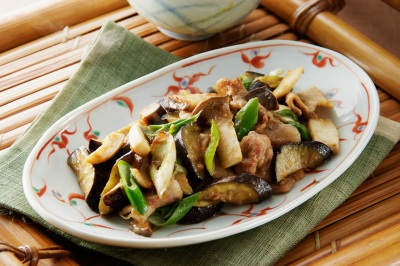 Helpful One-Point Tip:
After adding the combined seasoning, stir-fry the ingredients quickly to give them a shiny & inviting appearance.
Ingredients (2~3 Servings):
---
150g Thin Sliced Pork
1/2 pack (about 50g) King Oyster Mushroom
1 Eggplant
1/2 White part of a Long Green Onion
1 tablespoon (15ml) Vegetable Oil

[Combined Seasoning]

2 tablespoons (35~40g) Additive-Free Saga Miso
2~3 tablespoons (30~45ml) Sake
1+1/2 tablespoons (about 13g) Sugar
Cooking Procedures:
---
1
Cut the ingredients:
Cut the pork into bite-sizes. Cut the king oyster mushroom into several pieces, and then slice them into 1-cm slices. Cut the eggplant in half lengthwise, and then slice them diagonally into 1-cm slices. Cut the white part of a long green onion diagonally into 1-cm slices.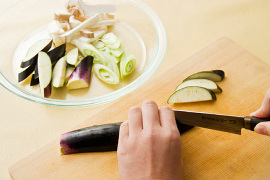 ---
2
Prepare the combined seasoning:
Place the miso in a bowl and add the sugar and sake. Blend them thoroughly to prepare the combined seasoning.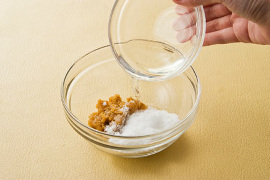 ---
3
Stir-fry the pork:
Heat the vegetable oil in the pan and stir-fry the pork slices until the color of them turn to white. Then, add the eggplant, king oyster mushroom and white part of a long green onion, and stir-fry them with the pork.
---
4
Add the combined seasoning as a final touch:
Pour the combined seasoning over the ingredients and stir-fry them quickly, seasoning them and giving them a shiny and inviting appearance.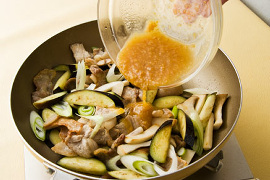 ---
The Key Item in this recipe:
Additive-Free SAGA Miso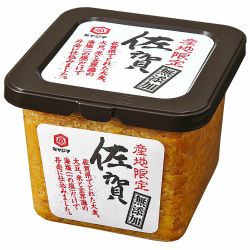 This additive-free Saga Miso is made from soybeans harvested in Saga Prefecture. It has a nice aroma and rich taste. So this miso is good for any types of dishes including soup dishes, stewed dishes and grilled dishes. The nice aroma and excellent flavor of the miso will bring out the nice taste of ingredients, making the dish more delicious.