Spicy Sea Bream Carpaccio
Cooking time:20 minutes, Calories: 204kcal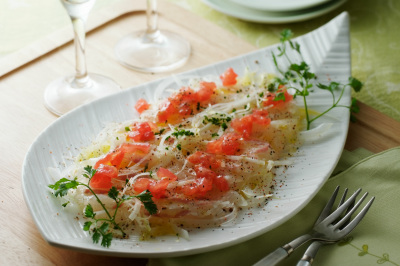 Helpful One-Point Tip:
Sprinkle on a generous amount of our Steak Spice over the Carpaccio as a final touch.
Ingredients (2 ~3 Servings)
---
200g Fresh Sea Bream Fillet (Sashimi-Grade)
1/4 Celery
1/4 Onion
1 Tomato
1/2 Lemon
1~2 tablespoons Steak Spice
3 tablespoons (45ml) Olive Oil
Some Chervil (French Parsley) Leaves (if available)
Cooking Procedures
---
1
Slice the sea bream thinly, and season the slices:
Slice the sea bream into thin slices and place them onto a plate. Sprinkle over a small amount of salt and pepper, and drizzle on the lemon juice. Leave the slices in a fridge to cool down.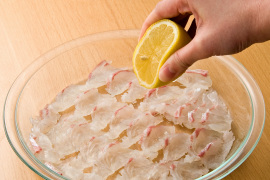 ---
2
Cut the vegetables:
Slice the celery and onion into thin slices, and submerge them into a bowl of water for about 5 minutes. Then, squeeze out excess water from the vegetables. (This process helps reduce pungent taste of the vegetables.) Peel the tomato and cut it into small dice.
[How to peel a tomato using boiling water]
Remove the hull off the tomato, and make a shallow cross-cut on the opposite side of the hull. Put the tomato into a pot of boiling water and boil it for about 20 seconds (the skin begins to peel during this treatment). Then, remove the tomato from the pot, and put it into a bowl of ice water. Let it cool down for about 3 minutes. After that, remove the excess water from the tomato using a kitchen paper, and peel the skin carefully.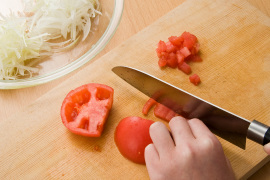 ---
3
Arrange the sea bream and vegetables onto a plate and drizzle the olive oil:
Distribute the onion slices evenly onto a plate, and put the sea bream slices on them. Then, distribute the celery slices and tomato cubes over it, and drizzle the olive oil. Finally, sprinkle on our Steak Spice and the shredded parsley leaves. You can also garnish the dish with the Chervil Leaves if available.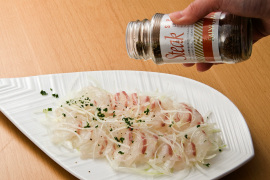 ---
The Key Item in this recipe:
Steak Spice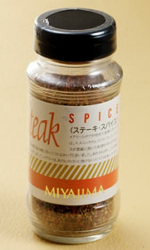 Our Steak Spice greatly helps you season meat and fish, and also helps you add additional flavors to your dishes as a final touch. The mixed spice has a vibrant color, which raises everyone's appetite. You can improve the flavor of your dishes greatly just by sprinkling this spice on, for example, salad and main dishes in your boxed-lunch as well as feast foods.