Easily-Cooked Nicely-Flavored Minced Chicken (Chicken Soboro) Bowl
Cooking time:15 minutes  Calories: 402kcal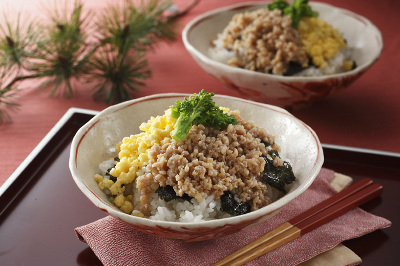 Helpful One-Point Tip:
Add the tsuyu soup base to the minced chicken (soboro) before heating. It will help you cook the perfectly-shaped chicken soboro.
Ingredients (2~3 Servings):
---
150g Minced Chicken
1/4 cups (25ml) Miyajima Tsuyu Soup Base (Bonito Flavor)
2 Eggs
Some Sake and Salt
1/4 bundle Canola Flower (Nano-hana)
2~3 bowls (300~450g) Steamed Rice
Some Small Pieces of Nori Seaweed
Cooking Procedures:
---
1
Prepare the ingredients:
Place the minced chicken into a small pot and add the Miyajima Tsuyu Soup Base (bonito-flavored). Turn on the burner and distribute the tsuyu soup evenly. During cooking, gently stir-fry the ingredients to avoid forming any lumps. Cook the minced chicken until the texture becomes scrambled. Then, place the cooked chicken soboro into a plate.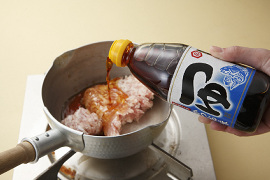 ---
2
Cook the scrambled egg.
Beat the eggs in a bowl and add the sake and salt. Dissolve the salt thoroughly. Then, pour the egg mixture into a pan and cook scrambled egg on medium heat. After cooking, place the scrambled egg into a plate. As for the canola flowers, boil them quickly but be careful not to overboil in order to keep them from discoloring. Leave them to cool and cut them into 2- to 3-cm pieces.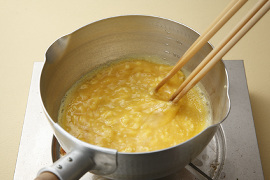 ---
3
Arrange the chicken soboro bowl.
Place the steamed rice in a bowl and top it with the small pieces of nori seaweed. Then, arrange the ingredients you cooked in the previous steps onto it in a good appearance. Enjoy its wonderful taste!!

---
The Key Item in this recipe:
Miyajima Tsuyu Soup Base, Double-Concentrated (Bonito-Flavored)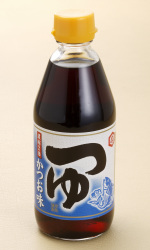 This Bonito-Flavored Tsuyu Soup is good for cooking various dishes, including noodle dishes, stir-fried dishes, rice bowl dishes and dressings for salads.