Nyumen Noodles (Thin Wheat Noodles) with Beaten Egg for Tanabata Festival* (*a Japanese Traditional Early Summer Festival)
Cooking time:20 minutes, Calories: 361 kcal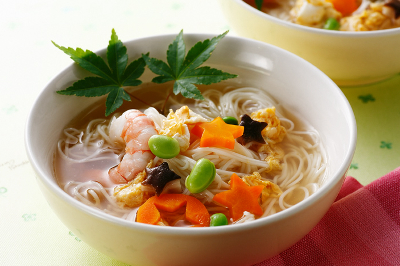 Helpful One-Point Tip:
Remove the ingredients from the pot before pouring the beaten egg.
Ingredients (2 Servings)
---
4 Prawns
1/4 Carrot
4 small Raw Shiitake Mushrooms
1 tablespoon Peeled Edamame Beans (boiled)
(Even when fresh edamame beans are unavailable, you may find packed or frozen edamame beans in grocery stores.)
2 packs Powdered Soup for Udon & Soba Noodles
3 cups (600ml) Water
2 bundles (100g) Somen Noodles (We call hot somen noodles "nyumen")
You can substitute udon or soba noodles for somen noodles. Try on different tastes with different noodles!
2 Eggs
Cooking Procedures
---
1
Prepare the ingredients:
Devein the prawns and boil them for 2 to 3 minutes in a pot of boiling water containing 1 to 2 % salt. Then, remove the prawns and leave them to cool down, and peel the skin of them. Scoop the carrot slices (cut into rounds) and fresh shiitake mushrooms using a small star-shaped mold (If such mold is not available, just cut them into small slices ).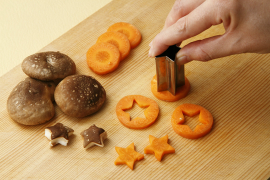 ---
2
Prepare the udon noodle soup:
Pour the 3 cups of water (600ml) into a pot and add the one pack of Powdered Soup for Udon & Soba Noodles. Turn on the burner and add the ingredients you prepared in the step 1. After they are cooked, remove them. Keep this pot because you use the remaining soup in the step 4.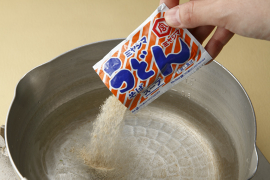 ---
3
Cook Somen Noodles:
Pour generous amount of water in another pot and bring it to a boil. Then, add the somen noodles, and cook the noodles according to instructions by the somen maker. After they are cooked, drain them with a bamboo strainer, and cool them well using running water. Then, drain them again and arrange them onto a bowl.
---
4
Add beaten egg into the soup:

Bring the soup in the pot you prepared in the step 2 to a boil, and add the beaten egg gradually into the soup. After they become fluffy and float on the surface, turn off the burner. Pour the soup along with the egg onto the somen noodles in the bowl you prepared in the step 3. Then, top the noodles with prawns, carrot slices, and shiitake mushroom slices. Finally, distribute the boiled edamame beans and it's ready to enjoy!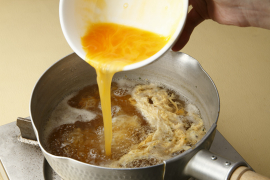 ---
The Key Item in this recipe:
Powdered Soup for Udon & Soba Noodles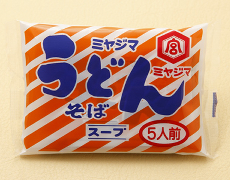 This Powdered Soup for Udon & Soba Noodles is a great help for your handy lunch menu. This soup enables you to cook a variety of dishes by adding your favorite ingredients or seasonings into the soup.