Miso-Flavored Pork Roll with Veggies
Cooking time:25 minutes  Carories: 327kcal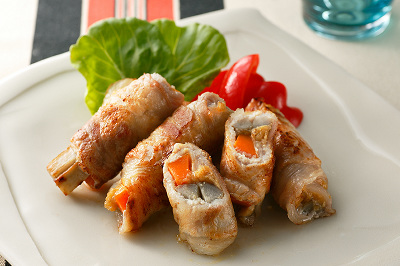 Helpful One-Point Tip:
Grill the pork roll with the seal side downward.
Ingredients (2 Servings) :
---
200g Thinly Sliced Pork
1/2 Carrot
1 small Burdock Root
Some Boston Lettuce Leaves

[Miso-Marinated Garlic]

2~3 tablespoons(35~50g) Additive-Free Raw Awase Miso
1 Garlic Clove
2~3 teaspoons (20~25 g) Sugar
Sweet Sake and Sake, each 1 tablespoon (15ml)
1 teaspoon Ground Sesame Seeds
Cooking Procedures:
---
1
Parboil the carrot and burdock:
Cut the carrot and burdock into 4 cm stripes, and boil them quickly. Then, place them onto a plate and let them sit to cool.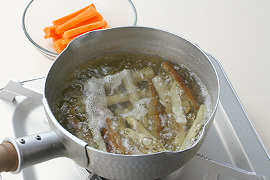 ---
2
Prepare the miso-marinated garlic:
Microwave the garlic clove to soften it. Then, crush the garlic, and combine it gently with the miso, seasonings (sugar, sweet sake and sake) and ground sesame seeds.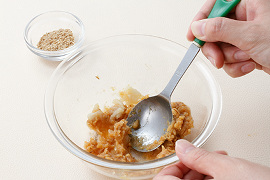 ---
3
Paste the miso mixture onto the pork. Roll the vegetables with it:
Spread the pork slices on the cutting board. Paste on the pork the miso mixture you prepared in the step 2 as shown in the photo.
Then, place the vegetables and roll them up.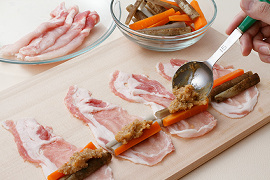 ---
4
Pan-fry the pork rolls deliciously to a beautiful brown:
Arrange the pork rolls on a pan with the seal side downward.
Heat the pan and pan-fry them. During cooking, roll them to grill them evenly. Then, cover the pan with a lid and cook them until the surface gets slightly burned After they are cooked, place them onto a plate and garnish with the lettuce leaves. If you like, wrap the pork rolls with the lettuce leaves, and enjoy them!
---
The Key Item in this recipe:
Additive-Free Raw Awase (Combined) Miso (This miso is made from locally-grown ingredients only.)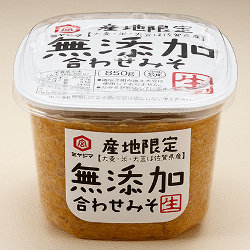 This miso has a gentle and flavorful taste. It goes great with fish dishes, vegetable dishes, stir-fried dishes, grilled dishes, hot pot dishes and of course, it is very good for cooking miso soup.