Mushroom Penne with Bolognese Sauce
Cooking time:15 minutes, Calories: 592 kcal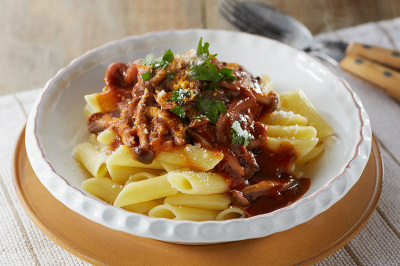 Helpful One-Point Tip:
Stir-fry the mushrooms first, and then add the Bolognese sauce.
Ingredients (2 Servings)
---
2 package PASTATAI Saga-Wagyu Beef Bolognese
200g Mushrooms of Your Choice
1~2 tablespoons Butter
2 tablespoons (30ml) Red Wine (to taste)
180g Penne
Some Olive Oil
Some Powdered Cheese, Black Pepper and Italian Parsley
Cooking Procedures
---
1
Prepare the mushrooms:
Cut off the stem end from the mushrooms and cut them into bite size pieces.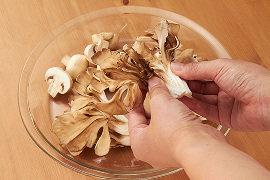 ---
2
Cook the Penne:
Cook the penne using a pot of boiling water containing a pinch of salt.
Cook the penne al dente (the penne should retain slightly firm texture even after boiled). Also, warm up the PASTATAI pasta sauce briefly using boiling water. (You don't have to open the package. You can warm it as it is, just by soaking the package into boiling water. )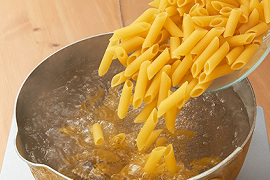 ---
3
Prepare the mushroom Bolognese sauce:
Stir-fry the mushrooms using the butter until they become tender. Then, pour in the PASTATAI Pasta Sauce and the red wine. Reduce the heat, and add small amount of the broth used for boiling the penne in order to adjust the consistency. Mix them well to prepare the mushroom Bolognese sauce.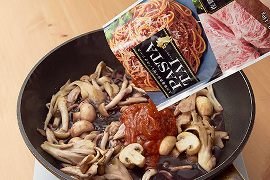 ---
4
Pour the sauce over the penne:

Pour over the cooked penne the mushroom Bolognese sauce you prepared in the step 3. Then, sprinkle over the powdered cheese and black pepper. Garnish this dish with the shredded Italian parsley.
---
The Key Item in this recipe:
PASTATAI Series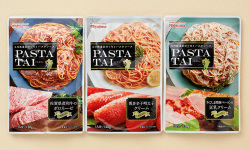 PASTATAI Series offers you a serious of pasta sauce made from elaborate ingredients produced in Kyushu, including Saga-Wagyu Beef, Hakata Mentaiko (spicy Pollack roe), and Kagoshima Kurobuta Pork Bacon. Each sauce come with plentiful volume so that we recommend you to use them for pasta and also for arranging recipes of various dishes such as rice, bread, and snacks.