Horse Mackerel Fillet Grilled with Fragrant Miso
Cooking time:20 minutes Calories:205kcal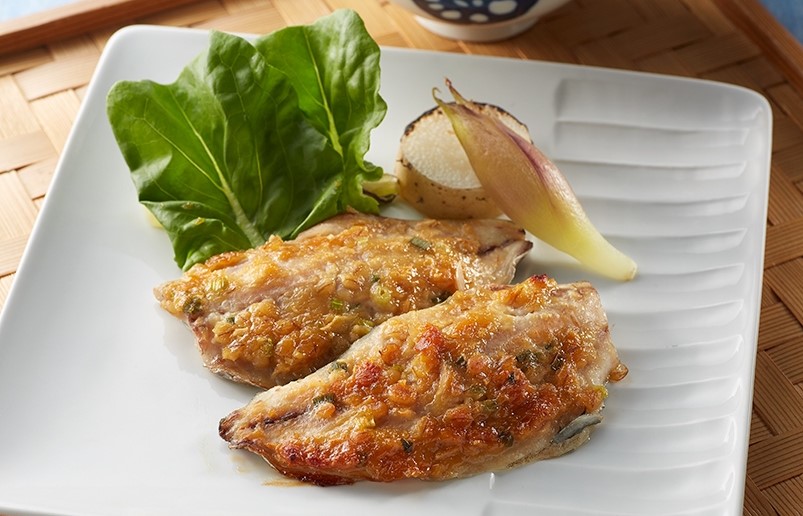 Helpful One-Point Tip:
Spread the miso mixed with the aromatic vegetables in a moderate thickness on the fillet, using a spoon or knife.
Ingredients (2 Servings):
---
2 fillets Horse Mackerel
2 tablespoons (about 35g) Additive-Free Raw Awase Miso
1/2 tablespoon (7~8ml) Sweet Sake
1/2 tablespoon (4~5g) Sugar
Grated Ginger Root and Grated Garlic Clove, each 2 teaspoons
1 tablespoon Chopped Green or White Part of a Long Onion
Some Chinese Yams (Nagaimo) and Japanese Ginger Roots (Myoga)
Some Boston Lettuce Leaves
Cooking Procedures:
---
1
Prepare the ingredients:
Remove the backbones from the fillets. Slice the Chinese-yams into rings, and cut the Japanese ginger roots in half.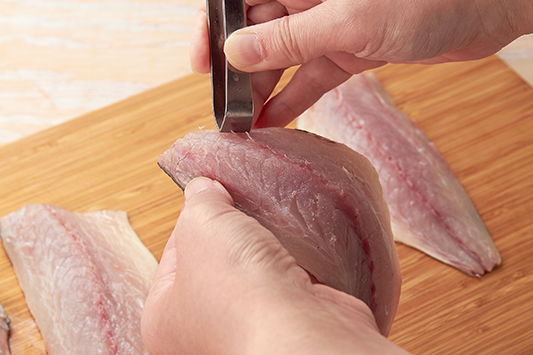 ---
2
Combine the seasonings with aromatic vegetables:
Combine the miso with the sweet sake and sugar. Mix them well. Then, add the grated ginger root, grated garlic and chopped green onion.
Mix them well.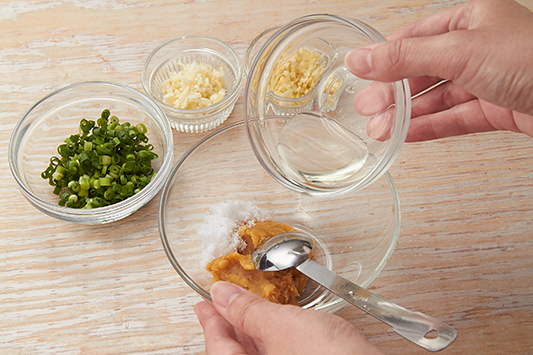 ---
3
Spread the miso mixture over the fillets:
Spoon an adequate amount of the miso mixture. Spread it on the fillets using a tool like spoon or spatula.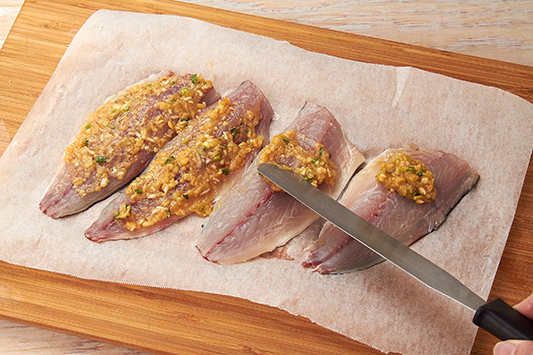 ---
4
Grill the fillets:
Place the fillets onto a cooking rack and grill them using a grill oven or toaster oven. While cooking, place the vegetables (the slices of the Chinese-yams and Japanese ginger roots) in the same oven and cook them along with the fillets until the surface gets slightly burned.
---
5
Arrange the fillets and vegetables onto a plate:
After they are cooked, arrange the fillets and vegetables onto a plate and garnish with soft lettuce leaves. Enjoy the nice taste!
---
The Key Item in this recipe:
Additive-Free Raw Awase (Combined) Miso (This miso is made from locally-grown ingredients only.)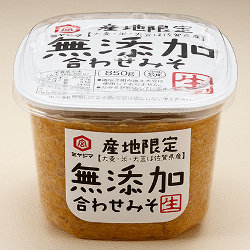 This miso is featured with its refreshing & moderately sweet taste and its nice fragrance, which really suits meat, fish and any other types of ingredients. You can prepare delicious "plum (ume)-miso" by adding ume-plums to the miso when ume-plums are in season.